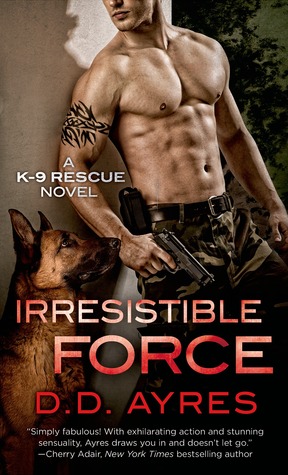 Irresistible Force
By D.D Ayres
Book 1 in the K-9 Rescue Series
Genre: Thriller romance
Expected publication: August 26th 2014 by St. Martin's Paperbacks
320 pages
A free copy was provided by the publisher in exchange for an honest review
For Shay Appleton, it's love at first sight when a gorgeous stray dog is brought into the animal shelter where she works. She just knows he'll make a terrific watch dog—and with an abusive ex who won't let go, she needs all the protection she can get. But Shay never suspected that her new pet is actually a trained police K-9 named Bogart—until Bogart's even more gorgeous, human partner shows up on her doorstep.
Officer James Cannon is one tall, strong alpha male who's convinced that Shay stole his dog. But once he gets closer to the suspect, he realizes that this stubborn, independent woman not only needs a guard dog, she needs James as well. It seems that someone from her past is stalking her, and threatening her life. When danger meets desire, will James risk his career and his best friend…to protect the woman who's stolen his heart?
Irresistible Force by D.D Ayres is the first book in the K-9 Rescue series and is D.D Ayres first full length novel. I wasn't expecting much from it, I never do with debuts, but the story looked good and I really like dogs so I was quite looking forward to this. Overall it wasn't a bad book but I did have some problems with it, the most notable being that it went a little over the top and didn't quite know when to stop.
The writing was good and I noticed no major issues or mistakes. It wasn't the most detailed or beautiful prose of all time but I had no problem following it or envisioning the world the author built.
It was the plot where things went a little wrong for me. It started as a misunderstanding between the two main characters James and Shay over a dog and the issues Shay was having with her ex-boyfriend who was abusive. The growing relationship between the two of them and the problem of the ex would have been enough. Instead it spiralled into madness and I couldn't keep up with it. It was all a little bit far-fetched especially where Shay was concerned. There were numerous sexual assaults, numerous threats of sexual assault, numerous stalkers (how many stalkers can one person have?), and numerous issues with the police. It was just all over the place and I quickly lost interest as it become more and more unbelievable.
The characters weren't much better. Shay was all over the place, one minute she was strong and stood up for herself, the next she wouldn't say boo to a goose and was emotional. It was almost as though the author couldn't make up her mind if she wanted someone to save Shay or for Shay to save herself. James was a little more stable but I wasn't overly fond of him either. He was alright, I didn't like him in the beginning and that bad feeling lingered.
I didn't get much from the romance either, it moved a little quickly and I wasn't sure about Shay and James as an item. What I did love was the relationship they each shared with Bogart the dog. He was a great character and his interactions were some of the best in the book.
Irresistible Force is not a bad book and there are sure to be many who enjoy its drama but it was all a little too much for me.
2 stars