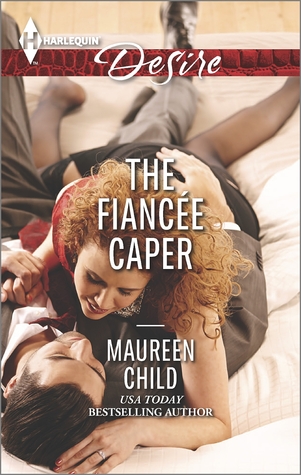 The Fiancee Caper
By Maureen Child
Genre: Contemporary Romance
Published August 5th 2014 by Harlequin
192 pages
A free copy was provided by the publisher in exchange for an honest review
To Catch a Thief, It Will Take a Thief
He comes from a long line of charismatic jewel thieves. But Gianni Coretti made a deal to save his family and now walks the straight and narrow. When Marie O'Hara, a beautiful security expert, asks him to steal for her as part of a sting, his interest is definitely piqued. The fact that she'll be pretending to be his fiancée is an added bonus. But as their fierce attraction blurs the line between ruse and reality, Gianni has to wonder: does a man with such a dubious past deserve a glorious future with this woman?
The Fiancée Caper is the kind of book I like to sit down and waste a few hours with. It is not the type of book I expect to think hard about or to invest a lot of emotional energy in. That being said I do expect great characters and heart stopping romance, both of which didn't quite work for me here.
I have only read one of Maureen Child's books before (Gilded Secrets) but I appeared to have the same problem with both that and The Fiancée Caper. There was just not enough development for me in terms of the characters and the romance for me to truly fall in love with this one. The writing was fairly solid and there is nothing wrong with the way Childs puts words on the page.
The story was interesting and fun but I couldn't really relate to any of the characters. Gianni was a little too arrogant for my taste and Marie was borderline annoying. She was guilty of one of my pet peeves in romances. She is too scared to tell Gianni he loves him and instead of thinking he might have the same fears dramatically flounces off because he hasn't told her he loves her. Despite that there was definitely chemistry between them which I enjoyed. I could see the attraction and desire but not the love which was a shame.
I didn't hate The Fiancée Caper, it was a good enough read but I ended up wanting a little more.
 3 stars